I've let the blogging slip a bit recently, but now I have a day at home I thought I'd catch up with telling you about the sewing I've done in recent months.
May: Simplicity 2599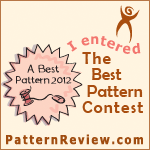 Whenever I complete a sewing project I always upload a review of the pattern to PatternReview.com. I love this website as it's a really useful place for getting tips on patterns you're already using, or for finding the perfect pattern in the first place.
One of the things they do as well as publishing reviews for people, is run contests throughout the year. By pure chance, this May they ran a contest at the same time as I intended to make a couple of tops from a pattern which was eligible for the contest. This was because the pattern I use the most for tops to wear to work has previously been voted a top ten pattern of the year.
Anyway, I decided to enter one of my tops, so I did. The top I entered was the one below, featuring a beautiful bird print cotton-silk mix fabric I bought (well, went halves with Mum on) at Cloth House, Soho, London.
You can see more pictures on my project in the flickr album for the project available here. You can view the full review for this project on PatternReview.com here.
I was very proud of my efforts, and ecstatic to get 8 votes in the contest! I will definitely be entering more contests soon. Watch this space...
The other top I made from this pattern was a slight variation on the pattern. I used the base pattern, this time with the sleeves, but instead of the ruffle front I added a pair of guipure lace collars I bought on eBay. This top is probably one of the biggest bargains of my home sewn collection - lilac polycotton £2.50, collars £3! I wear both these tops to work, and the picture below shows my lilac top taken by my friend Shareen during the lovely British heatwave back in May.
You can read a copy of the review for this top here.
July/August: BurdaStyle Magazine 07-2012
I didn't do any sewing in June, as I was busy crocheting (as you will know from my previous posts), but in the last two weeks I've made up for that by making a top and a dress.
The top in this photo was made especially to wear to my trip to the Olympics last weekend. (We went to women's Gymnastics and Judo, but I'll save that for another blog post...)
The pattern was in BurdaStyle Magazine for July which was a fabulous coincidence as I'd already planned to make a top out of the official Team GB scarf from Next. I added a blue, red and white gingham sourced from the ever reliable eBay for the back and an extension to the front.
As ever, I posted a review to PatternReview.com, which you can read here. I also have a flickr album for this top, showing some of the detail of construction.
And finally for July (and a bit of August!) I made this lovely dress:
This was made for my lovely friend Gwen's "End of the '20s" themed 30th birthday party, held at a lovely cocktail bar in Manchester last night. I searching for a long time for a pattern for a dress, and by pure fate BurdaStyle July issue had a selection of 1920s inspired dresses to choose from. I picked the godet dress, and made it over the course of the last week whilst watching the Olympics on TV.
If you want to read my review of the pattern you can find it here.